Scholarship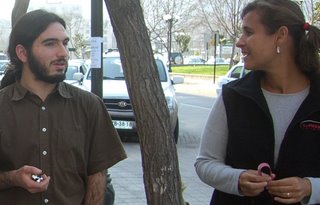 Like half of the children and adolescents in Latin America, Jonathan was born into poverty. He was raised by a single mother (his father abandoned them) in a lean-to made of cardboard in a squatter's camp until Pinochet's soldiers destroyed the camp. He and his mother then moved "up" to a slum.

At twenty-five, Jonathan is a prototype for what we long to see happen in the lives of the youth of the region. He has broken out of the mentality and cycle of poverty but is still willing to serve others with his considerable gifts and talents while developing himself professionally. To an American this might sound ordinary, but in our experience in Latin America each one of the following elements--breaking out of poverty, serving others, and developing as a respected professional--is notable. Finding all three in the same person is truly rare.

In a culture where "servant" is an occupation, the one thing lower than being a servant is being one who doesn't even get paid. Somehow Jonathan has developed a work ethic that transcends this cultural stigma. During the two national youth leaders conventions for we've been a part of in Chile, Jonathan has been always present, always serving. He arrives early and stays late. While other "leaders" his age are sitting around in smart clothing, overseeing the few details related to their official role, Jonathan is helping out whoever and however he can. Throughout the year he serves in his local church as coordinator of the worship team and as youth leader and he supports youth ministry in general as an author, editor and mentor for two youth ministry related web sites.

He has finished an AA degree in Accounting and until a year ago had won a scholarship to study Literature at the best private university in Chile. Then the school had a change in leadership and rescinded all scholarships.

Together with colleagues in Chile, we have been trying to raise the $7500 it will take for him to finish his degree. So far we have $1800.

If you would be interested in helping us cover the last $5700 dollars contact us.
(NOTE: THIS IS NOT AN OC INT'L PROJECT, BUT WE HAVE FOUND A U.S. NON-FOR-PROFIT ORGANIZATION WHO WILL RECEIVE THE MONEY ON HIS BEHALF).