Great Teammates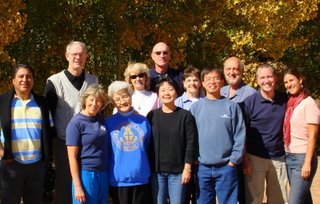 We spent last week in Colorado with our new OC team: the International Ministries Team. This unique team meets twice a year to do some business but mostly to encourage each other and catch up on what God has been doing as we serve as "global catalysts for discipling all nations".
The aspens had already begun to change so the landscape on the back side of Pike's Peak where we were meeting was breathtaking. But even that paled in comparison to the ministry reports, which is really saying something coming from someone who dislikes meetings as much as I do.
Here's a few snapshots of what some of our teammates have done during the past year: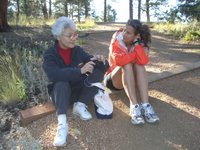 Kwang Ja (in her 60's) has taught herself Japanese, in large part by reading through the Japanese Bible out loud, five times. She had us captivated as she explained things that had popped out during these readings from passages she had studied countless times in English and Korean.
Edwin trained 12,000 counselors for an evangelistic crusade held in Guayaquil, Ecuador. Those counselors passed 13,000 decision cards to local churches after the crusade.
Sharon showed a picture of a twenty something girl in a former soviet republic beaming as she hugged Sharon and a camp director. The girl had come to the camp office to thank the director. "You probably don't remember me," she began, "but I'm an orphan and you gave me a scholarship to camp many summers ago. I want you to know that I just finished my degree at Bible School." The scholarship had actually come through Sharon and Bob so it was perfect timing that the orphan "happened" to come the day they were at the office.
As we move into our new role with the institutes for youth leaders in Latin America, we're honored that we have these wise, experienced people supporting us and holding us accountable to our shared goal: "The IMT promises to serve as a global catalyst for discipling all nations, through research, training, media, consulting, and partnering with churches, other agencies and change-agent leaders. Whether alongside other OC teams or entering new frontiers, the IMT will use non-competitive, strategic and innovative approaches designed to make breakthrough contributions on behalf of OC."