Getting Published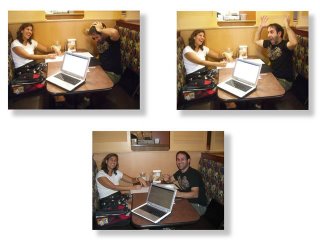 After much deliberation, the textbook on youth work and accomanying animated classes that Annette and I have been developing with a team of people for the last 3½ years is going to be published by one of the Spanish-language divisions of Harper-Collins.

In the photos (click for biggie size) you can see Annette with Lucas Leys, the director of Youth Specialties - Latin America. Even though the top two pictures were obviously staged, there was some haggling over the project. Lucas drew the line at 300 pages (down from 380) so the appendix, worksheets and the classes that we had envisioned on an interactive CD will all be available online. This makes them for the youth leaders but less costly for the publisher.

For all of you who were praying for this meeting, thank you! We feel good about the end result and hope this help get the material into more leader's hands.