In the U.S. but with Mexican Tags
Howdy. I just wanted to let you know that we've made it safely to the U.S.

We ended up leaving Mexico City 4 hours late due to car problems. It was Thursday the 16th at 2:00 p.m. and we were still singing songs from the U2 concert the night before. We arrived in Monterrey, Mexico 9 hours later where we stayed with a girl from our youth group in Toluca who had recently gotten a job as a lawyer in Monterrey. Friday morning we crossed the border at Nuevo Laredo/Laredo, hit awful traffic at San Antonio and Austin, Texas in the afternoon and spent the night in Waco (where Annette went to college). We arrived in Wichita, Kansas early Saturday evening and Sunday we spoke 4 times at the church that Annette grew up in.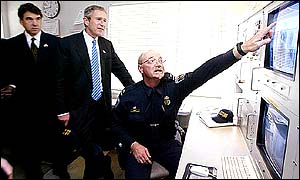 [Agents checking our crossing at the border]

We were a bit anxious about the border crossing but - like getting a shot - it was mostly painless. We did get pulled aside for a random search of our car, but the whole waiting in line on the bridge over the Rio Grande, talking to the customs agents and search process only took 21 minutes.

The friendly Texan agent searching through all our worldly possessions which were crammed into the back of our truck said, "We don't get many American's crossing into the U.S. in a car with Mexican tags...usually it's the other way around." Deep down inside I get pleasure from the thought that a policeman somewhere might pull us over seeing our Estado de Mexico license plate as a sign of illegal entry into this country. That should make for an interesting conversation :-)

We hope to arrive in Orlando, Florida the 1st or 2nd of March.