Toddlers Campus
Preschool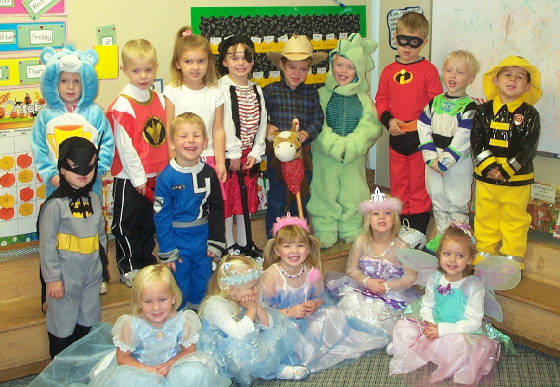 at First Baptist Church of Wheaton
1310 North Main Street
Wheaton, Illinois 60187
Phone: 665-0330
Quality Education for Young Children
Dear Parents:
It is a fact that the first six years of a child's life are the most important. It is during this time that a child develops his attitudes toward other, toward authority, and toward learning, and will carry these impressions into adult life. We realize this and have developed our program to provide an environment conducive to learning, creativity, and the proper development of your child.
The task of rearing and training preschool children is essentially the responsibility of the parents in the home. This does not mean, however, that the home must do this important job alone. The good home, in fact, may be the home which seeks every resource so that its children benefit to the fullest extent. Expanding contact with other children and other adults assists the child in his growth and development. We urge parents to work closely with TODDLERS CAMPUS to make the most of their child's experience.
When seen in this light the preschool is neither a competitor nor substitute...It is a SUPPLEMENT to a good home. A Christian school not only prepares the child with a head start but also with a heart start as well.

Program
Our daily program is centered around the needs and interests of both the individual child and those of the group. Our program is purposely flexible so that each child may work and play at his or her own pace, and is allowed considerable choice of activities within the environment planned for that age group. Each teacher and aide are instructed to guide the children in their specific interests. Classroom activities are balance with supervised outdoor play time. Our well-developed outdoor area and well-equipped gym will stimulate and challenge young minds and bodies.
Staff
TODDLERS CAMPUS will be as effective as those who work in it. Therefore, we have maintained the highest standard in selecting our staff. Each has a genuine love for and interest in children and is trained and experienced in working with children in their most formative and impressionable years. Our staff consists of individuals in whom you can entrust your children with complete assurance and peace of mind.
Schedule
TODDLERS CAMPUS provides several choices of programs for 3, 4, and 5 year olds. There are two day or three day classes per week for 4 year olds, and a three day afternoon class or five day morning class for pre-kindergarten (5 year olds). All of these are half-day sessions. These years of total child development prepare the child well for the elementary school of your choice.
Registration
Application for admission is made in January prior to the next school year. It is a phone-in registration. Before applying, visits can be made to the Preschool where you can observe in the classroom and see the facilities. If you would like to make an appointment, call 665-0330. We would be glad to answer any further questions you might have.
General Information
Services
Toddlers Campus is a pre-school for children three years old until the age they are ready for kindergarten. The three-year old classes meet 9:00-11:30 AM either two days or three days each week. There is also a class that meets 12:30-3:00 PM two days each week. The four-year old classes meet 9:00-11:30 AM either two days or three days each week, and also 12:30-3:00 PM three days each week. A pre-kindergarten class for five year-olds meets 12:30-3:00 PM three days each week, or five mornings a week from 9:00-11:30 AM.
Toddlers Campus is operated under the direction of the Toddlers Campus Committee of First Baptist Church of Wheaton, Illinois. The committee is elected by the church and establishes policies, sets the budget, hires the Director, teachers, and aides, and has overall responsibility for the operation of the school. The committee works with the Director in the general operation of the school.
Purpose
The primary purpose of Toddlers Campus is to provide, within a Christian framework, an environment of understanding and acceptance where the young child can experience growth, development, and learning at his or her own individual pace. In this environment, they are encouraged in developing self-control, in learning to listen, to follow directions, and to get along with others. Our goals include helping them develop self-respect, self-confidence, self-reliance, self-discipline, and a sense of responsibility. We recognize each child to be a unique individual. Our philosophy is one of freedom for the child to explore and discover the world about themselves within a stimulating, structured environment.
Goals
1. Help each child to interact socially and get along with other children.
2. Help each child to achieve some independence outside his or her family.
3. Give each child basic pre-school level educational experiences. Motivate each to fulfill his or her potential.
4. Help each child to enjoy themselves in school.
5. Provide a Christian atmosphere and attitude at all times. Teach Christian principles and concepts.
Philosophy
In order to carry out our purpose and goals, we have provided a safe and secure surrounding, rooms equipped for learning and creativity, and an atmosphere of love and caring. The staff strives to be the best models possible for the children to imitate. The task of rearing and training preschool children is essentially the responsibility of the parents in the home. But a good home may seek out every resource possible to benefit the child. We see ourselves as one of those resources, a supplement to the home. We want to give them a head start and a heart start.
Tuition Schedule
School Year 2006-2007
Make all checks payable to: TODDLERS CAMPUS
Enrollment Fee
- $100 (of this, $70 will apply toward the first tuition payment
- $50 refundable before July 1st/ nonrefundable after July 1st
- only one fee per school year
- due upon enrollment
| | | |
| --- | --- | --- |
| PROGRAM | 1ST SEMESTER RATE | 2ND SEMESTER RATE |
| | | |
| 2 half days per week | $453 - $70 dep. = $383 | $383 |
| 3 half days per week | $611 - $70 dep. = $541 | $541 |
| 4 half days per week | $768 - $70 dep. = $698 | $698 |
| 5 day half day Pre-K | $921 - $70 dep. = $851 | $851 |
When two or more children from the same family are enrolled in Toddlers Campus Preschool, there is a 10% discount for each child.
Preschool tuition is payable by the semester (due July 15 and January 15). You will save $21 paying by this method. If you do not wish to pay the entire amount at that time, you may make equal payments in July, Sept, Oct, Nov, Dec, Jan, Feb, March. Payments are due by the 15th of each month.

No statement is sent unless payment is late. You may give your tuition checks to your child's teacher, bring it to the office, or mail it.
POLICY REGARDING DELINQUENT FEES
When payment is two weeks delinquent, arrangements for payment must be made with the Director. If payment is not made at the time agreed upon, the student may be asked to withdraw. A student may not begin a new semester without having completed payment for the previous semester.